St. Petersburg: Food
I saved the best for last. I don't know about you, but when I travel to new places, the thing I'm most excited for is trying new and sometimes unusual food. Well, Saint Petersburg, you did not disappoint. I ate some of the best dishes I've ever had in my life and had an incredible dining experience that I'll never forget.
Breakfast & Brunch
I love a good breakfast. We made the mistake of eating at the hotel the first morning. Needless to say, we found much better for the following two mornings.
Bonch is a cafe that is conveniently located just a five minute walk from Palace Sqaure. Their English breakfast was true to fashion, but I could have done with a few more mushrooms and slices of bacon.
Their ginger-spiced latte was out of this world! Definitely a place to go for coffee lovers. In fact, I noticed that most people who came in after us early birds, ordered just a coffee or tea and were quickly on their way.
The decor was clean and modern with a touch of Scandinavian flare, making me feel right at home.
On our third morning, we planned on going to Mitte, but it didn't open until noon (the horror), so we came upon another restaurant serving breakfast and brunch. Unfortunately, brunch service didn't start until 1pm (what is with these times?!), so we each picked something off the breakfast menu.
We actually ran into a fellow American on the street who is in St. Petersburg studying music and was also looking for a place to eat, and so we all shared a table and good conversation at Cafe Rubinstein.
I ordered an egg cooked in a baguette, complete with semolina mash and pink Himalayan sea salt. It was scrumptious. Tyler ordered a flaky, homemade quiche Lorraine (he devoured it before I was able to take a picture). Our new acquaintance had a bowl of oatmeal and an omelet that looked amazing. How long do you have to know someone before you can ask for a bite?
By the time we finished our meal, brunch was about to be served. Not a bad spread. Thanks to the waiter for posing so perfectly.
If you've never tasted Georgian cuisine then you are missing out my friend. The city is filled with them, but they are not all created equal, as we discovered on our first night. The one that stands far above the rest and would be Tyler's and my weekly lunch spot if we were locals, is Khachapuri and Wine.
We ordered more food than we knew what to do with, but it just simply couldn't be helped. Our waiter, Aleksander, was the perfect food recommender right from the appetizers to the wine.
Our dessert was homemade plum cake with ice cream.
We started with two proper cups of coffee, followed by a wave of food served on wooden boards and clay plates.
If you are ever in St. Petersburg, I implore you to visit this restaurant. Words can't describe how absolutely delicious our meal was
Starting at the top (photo below) and working clockwise: On the wooden board is sulugini, a homemade Georgian cheese, with walnuts and honey. Tyler ordered a khachapuri with cheese and pork. Then came a soup, kharcho, with adzhika (a spicy Georgian sauce) and beef. I ordered a tomato and sulugini khachapuri that looked just like a pizza, but with Georgian spices and flare. The salad was one that I must recreate. It was a Tblisi salad with hot peppers and various vegetables and spices. On the clay plate were a set of phakli in spinach and beet.
If there's one thing Tyler and I are equally crazy for, it's a good shawarma joint. We were in search of something quick, and obviously tasty when we passed this place. It was packed (always a good sign).
I ate my food, completely forgetting to document it, but trust me. It was delicious, cheap, and satisfying. I think that checks all the boxes. Oh, and they serve beer, which goes very well with a heap of chicken, pita, and vegetables.
We heard about Oh! Mumbai from a friend. We decided to give it try because who knows when we'll get to have good Indian food again.
It's a popular place and reservations are recommended, but we were lucky enough to get a table without one. We ordered samosas, two types of curry, and paneer. It was flavorful and homemade, each bite as perfect as the next. And if you do pop in, please order a mango lassi (I had two if that tells you anything).
I've been chomping at the bit to tell you about this list place. It was one of the best dining experiences I've ever had and in a restaurant that is going on my "return to" list and never coming off. The name? Taste to Eat.
We walked in, were asked if we had a reservation, which immediately gave us a sinking feeling since we had to reply, "No." The owner (?) looked at his book and before we knew it our jackets were being taken from us and hung and we were directed to the best table in the restaurant, tucked away in the corner by the window facing the street. The only catch, we had to be done by 9pm, when the reservation would arrive. We looked at our watches. It was barely six. "No problem," we said, smiling.
Our waitress, Katya, offered me some help with the drink menu, and suggested I try a Russian spin on the Long Island iced tea, called Vasilievsky Island Kvas-Tea. It consisted of white rum, kvas, chacha chardonnay, gin, and vodka. Yum! Tyler had a Russian craft beer.
We couldn't decide on what to order, so we played it safe and ordered a bit of everything. Decisions are hard.
We started with the appetizers.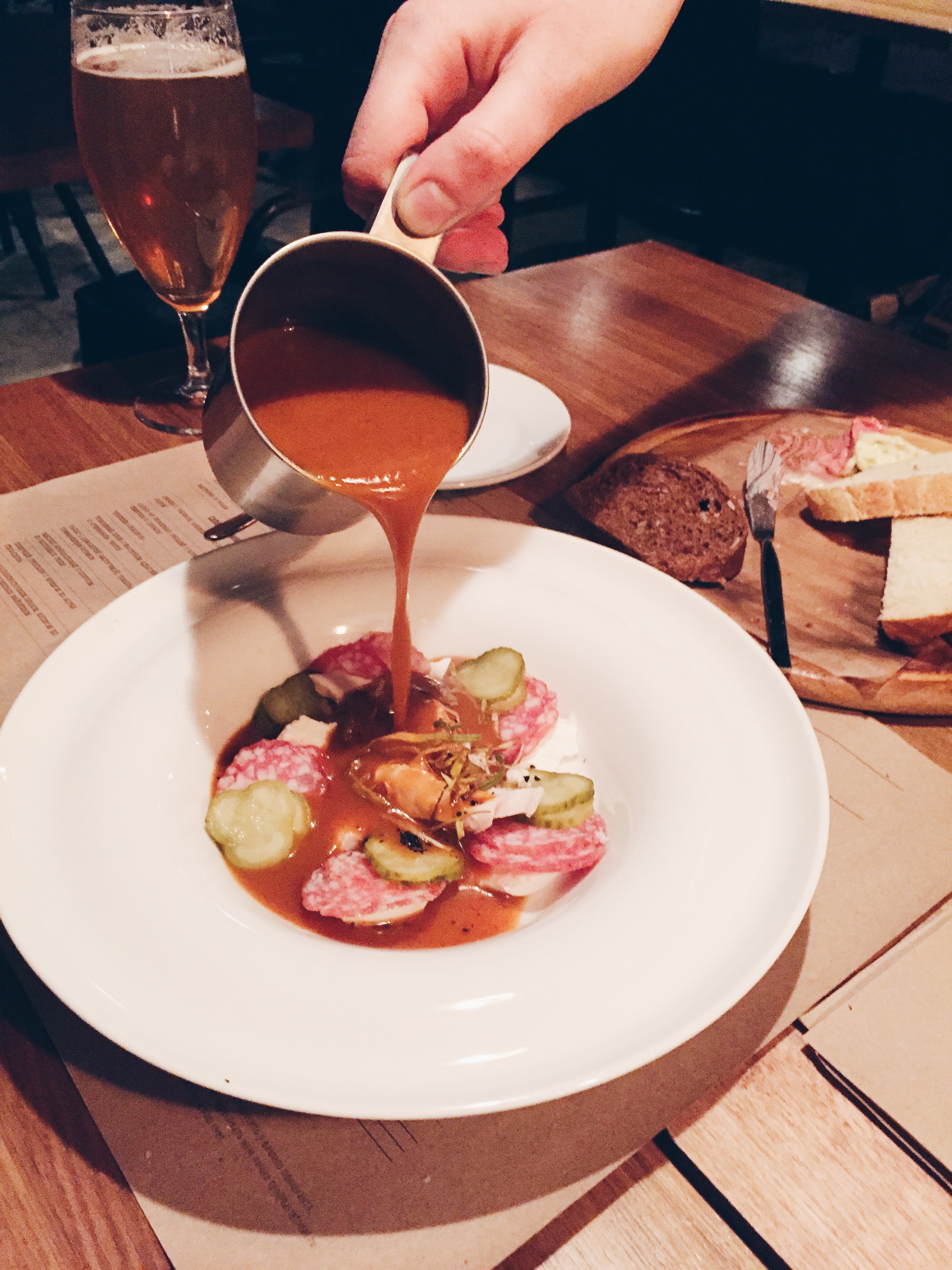 After our appetizers had arrived, our waitress brought us a treat, compliments of the house. Shots, complete with vodka (of course), honey, cinnamon, and a few other spices that we mere mortals aren't privy to. It tasted festive, and ideal for the season. Tyler and I both simultaneously made pleased faces after the first sip.
Above: I ordered the most delicate beauties known to man: vareniki with beetroot cottage cheese and mushrooms. I can literally taste them as I'm writing this. They were like delicate sweet pillows of pasta heaven.
Left: Tyler ordered chicken Kiev "sous-vide" with mashed, smoked potatoes and lemon confit. The flavors were a perfect balance of mouth-watering and decadent.
I noticed something magical happening at a neighboring table during our meal, and discovered what it was after a quick peek at the dessert menu. I couldn't let us leave without seeing and trying this concoction for myself.
The chef came to the table with a pot (one small and one big), a canister, and a plate. On the plate, he described that there were bits of cake with berry sauce, mint, and most interestingly of all, pine cones...edible pine cones!
He proceeded to squirt the pine-flavored merengue out of the canister and into a ladle which he dipped into the pot of liquid nitrogen.
After each one was done, we were advised to wait 10 seconds before tucking in. I counted down the time in my head, made myself a little plate, pinecones and all, and holy smokes! It was a treat unlike any other. Pinecones are delicious! I never thought I'd say that, but it's true. (Please don't go outside and grab one off a tree...this was prepared by professionals and I'm happy to leave it to them.)
I thought our meal was sadly coming to an end, when our trusty chef returned to us with something he'd been working on. It's called "Litter box." Sounds yummy, doesn't it?
It was similar to the merengue in that it was dipped in liquid nitrogen, but instead, it had raspberry pieces that were tart and perfect. I'm happy to be his taste tester any day. Maybe I'll see this on the menu when I return.
I love a restaurant where they encourage creativity and ingenuity. If you're looking for something predictable and normal, stay away, otherwise, pop in for a meal, ask for Katya (the entire staff that we encountered was beyond gracious), and enjoy what will undoubtedly be one of the best meals you've ever had.
Well, that wraps up our trip to St. Petersburg. I hope you had as much fun reading it as I did writing it. There are more travels to be had very soon. January is going to be busy!
Marina