NYC Day 2: Breakfast With Freda
At 8am I was ready to go. Breakfast was waiting and I couldn't wait to finally dine at a local cafe that I'd been following on Instagram for a couple of years. We marched ourselves over to the subway station (it's always nice when the waiting area is outside rather than underground).
I threw on a sinfully comfortable dress that I'd found at TJ Maxx, my always reliable leather sandals (these babies took me all over Tokyo a couple of years ago), and my handy Ted Baker purse.
Jack's Wife Freda opened in 2012 and hasn't slowed down since. They serve breakfast, lunch, and dinner and have two locations (Lafayette and Carmine).
We arrived just as they were opening and already there were loyal customers filling in the seats indoors.
My sister and I opted for a table outside, so we could enjoy the morning air and passers by.
First item of business: coffee, a latte to be exact.
It took me a while to decide what to order because I wanted a bite of everything. I ordered the Poached Eggs with Grilled Tomatoes and Haloumi (swoon), accompanied with fresh, homemade bread.
That egg. That gorgeous, perfectly cooked, was laid to be eaten by me, egg.
Helen ordered the Mediterranean Breakfast, complete with two eggs any style (she chose poached), chopped salad, labne, avocado and pita bread.
We delighted in every bite. Rest assured that I will return to this magical place.
After breakfast, a short visit to Washington Square Park was just what we needed before heading to the High Line.
The High Line is a truly special and unique place. At just under a mile and a half long, it rests above the city streets, intermingled with the buildings, where the railroad used to be. The city planted flowers, installed benches, and you'll even find a sprinkling of art here and there.
If it weren't for the towering sky scrapers and occasional view of the busy streets below, you might forget that you were in the country's largest city.
At the end of the High Line, we landed at the Whitney Museum of American Art.
I took some pictures of a few of my favorite pieces.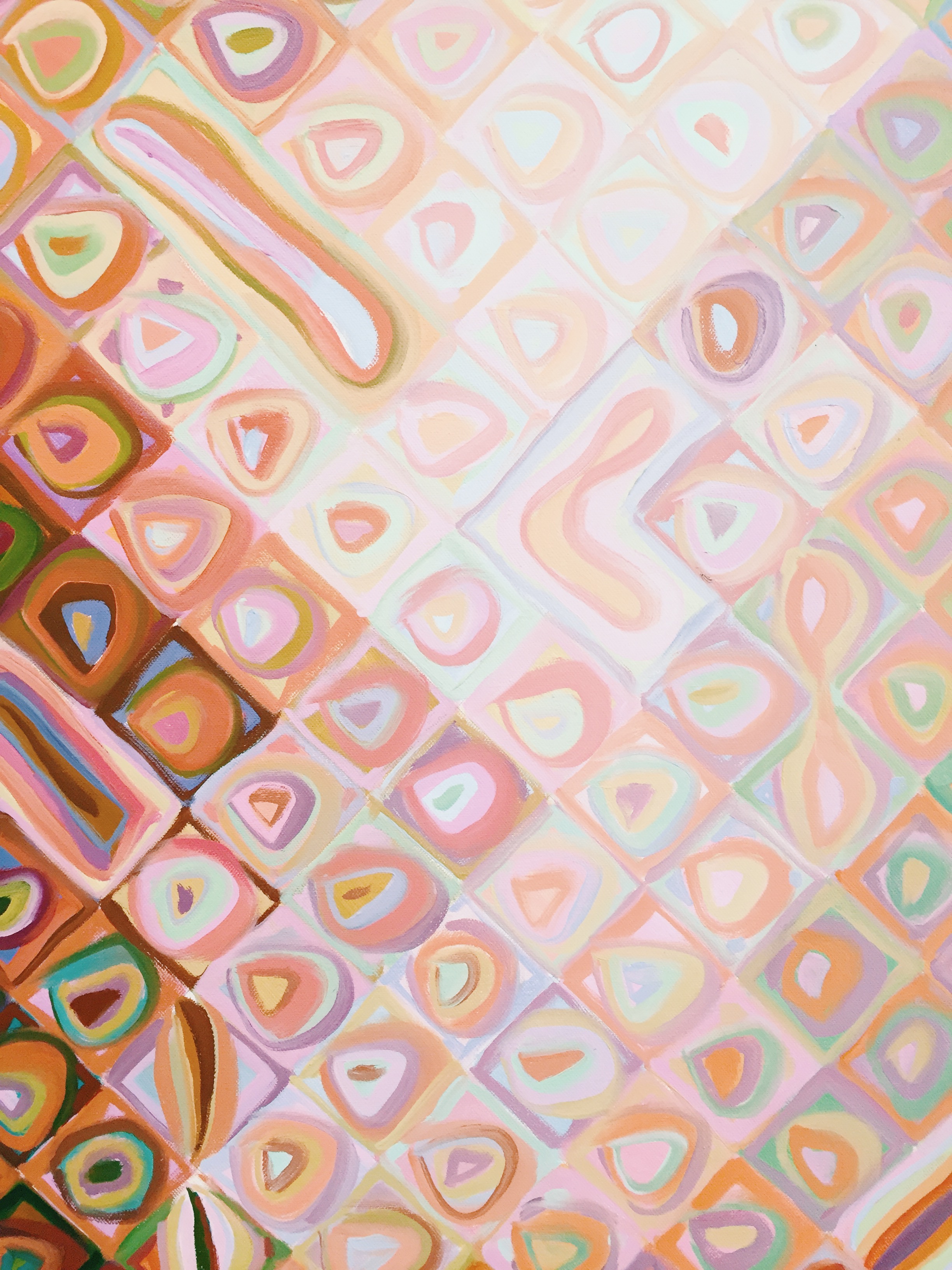 We ingested a good dose of art, leaving me wanting more (check in tomorrow), but also with a desire for a nibble and a trip to the park.
Central Park is one of my favorite places in all of Manhattan. Helen and I found the nearest Whole Foods and stocked up on sushi, salad, and edamame, found a perfect place on a small hill in the Sheep's Meadow, and took to enjoying the late afternoon.
As the sun began setting, we moseyed from one side of the city to the other, determined to cross the Brooklyn Bridge. Luckily, we were treated to the most beautiful sky (although my camera barely does it justice).
The Brooklyn Bridge was just as charming as I'd remembered it. The wooden boards make the same sound as those on an oceanside boardwalk. Tourists and locals alike mingle and bob and weave between each other as some stop to take photos and others finish their evening jog.
It's not hard to become mesmerized. We slowly made our way home, inching from Manhattan to Brooklyn, as the sun dipped below the horizon.
The night ended with chocolate and Netflix in bed, discussing the next day's itinerary of SoHo and the MET.
Marina