Copenhagen's Treasures
When you've had a bit of rain, it's nice to see some blue from above. We woke up to a beautiful, sunny Copenhagen day, the following morning. We didn't hesitate to jump on our bikes and head into the center. I followed my sister loyally and carefully, as we zigged and zagged with the other locals.
After an hour of independently exploring while my sister went to a meeting, her boyfriend met us on his bike and guided us to lunch. I never say no to a good hot dog joint, and we Scandinavian's know how it's done.
John's Hotdog Deli offers a few different kinds of hot dogs and all the toppings you could wish for. They even make their own hot sauce! We piled ours high with pickled this and marinated that, mustards, and crunchy things, before devouring them at one of the picnic tables outside, saturating ourselves in the sun.
It was all shopping for the rest of the day and by the late afternoon, we were wiped.
Luckily, when we arrived home, Helen remembered the leftover cookie batter that was sitting in the fridge, sad and lonely, waiting to be baked. Not wanting to disappoint, we popped them ever so gingerly onto a tray and into the oven. Helen's boyfriend used brown butter to make these, and I just happen to have snagged the recipe. It was the perfect pre-dinner snack.
Eventually dinner time did come and we hopped back onto our bikes and headed towards Manfreds where my sister had made a reservation a week before.
Snuggled into our cozy table, lit by candlelight, we decided on the chef's choice tasting menu and let the sommelier choose our wines to go with the respective courses.
Not included in the tasting menu, but what Manfreds is famous for, is their tartare of beef. It is, quite literally, the. best. tartare. I've ever had. The funny thing is, this restaurant is known for its vegetarian dishes, but is famous for this dish. It is so fresh and memorably seasoned, that just thinking about it makes me salivate.
From there, we moved into seven smaller dishes, each coming out with a server and an explanation. (We ate the dessert before it was pictured.)
The restaurant uses seasonal veggies and somehow even managed to make celery interesting.
We ate everything from poached egg yolk with onion purée, and sourdough, to pumpkin with brown butter vinaigrette and ricotta, to smoked mackerel with kohlrabi and green tomatoes.
The evening was perfect. We took our time getting home that night, passing through parks, stopping in at another restaurant (or two...does a Shawarma place count?) to chat and share some more wine.
The next morning, it was time for me to show my sister around the city.
Just kidding. I let her lead the way en route to Den Lille Havfrue, otherwise known as The Little Mermaid. We grabbed a coffee to go and made a few pit stops along the way.
One such stop was in a darling neighborhood that seemed to be in a city of its own.
There were about six or seven streets that, in the middle, blocked cars and instead were home to a protected area for kids to play, a picnic table to rest, or a small garden to flourish. Each street had its own unique feel, and each house was charming and well kept.
The paparazzi are unapologetic, however.
Even the cats seem happy here (side note...he took a whack at me just after this photo).
With what seemed like miles and miles of walking put behind us, the little mermaid emerged. I've seen her a number of times, dating back to when I was a little girl.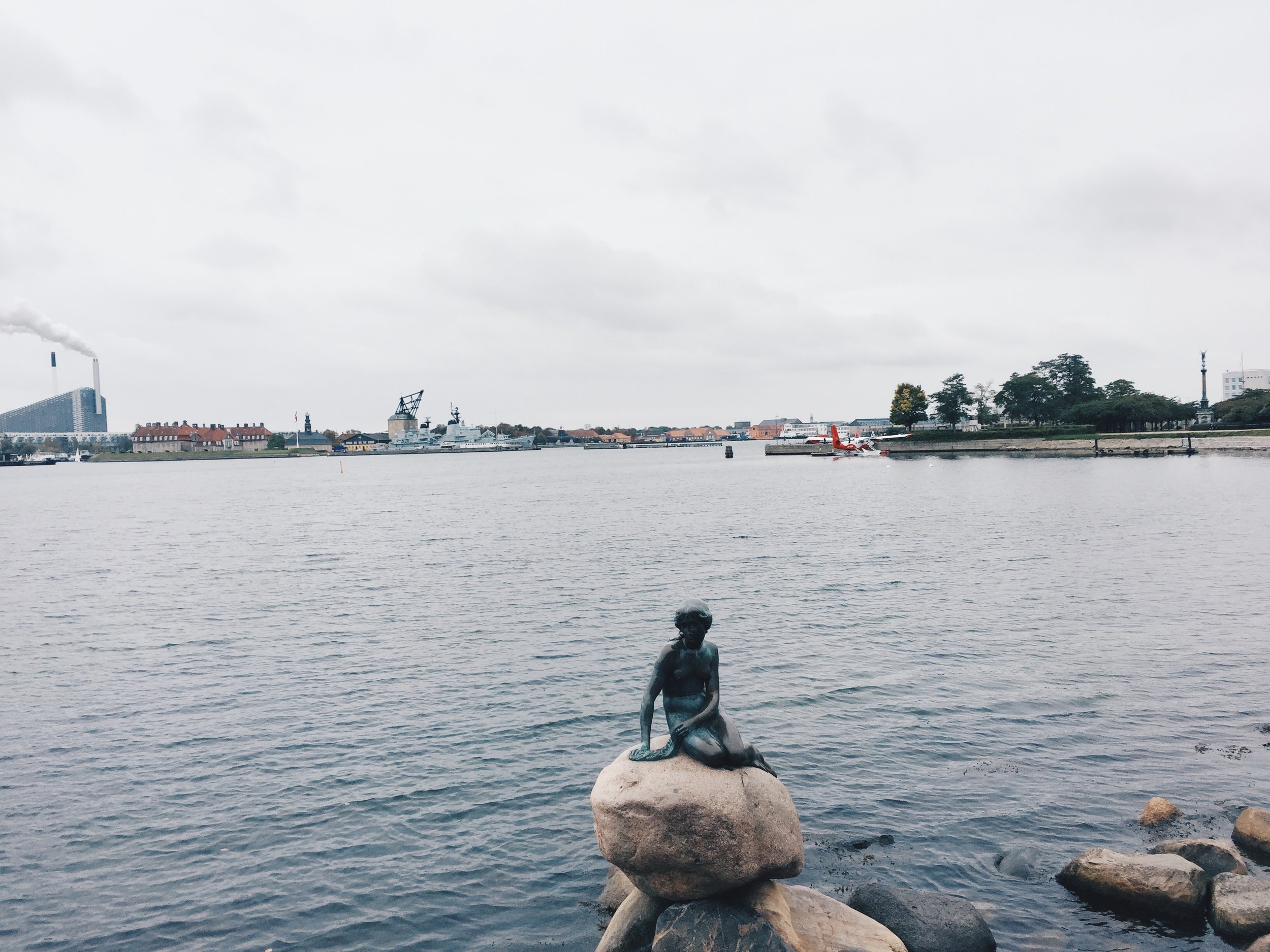 She is always surrounded by tourists and doesn't cease to have that look of longing on her face, appropriately so just as Hans Christian Andersen wrote her.
I soon after found an ice cream (soft-is...a staple in any good Dane's or in this case, Norwegian's diet) which kept me company after the long walk.
The day's journey took us along the water, past the royal palace, to Nyhavn.
Nyhavn is Copenhagen's most famous waterfront and canal. It's home to restaurants and featured on every tourist shops collection of post cards.
We just jaunted on through, and made one visit to another ice cream shop, only because Helen insisted that their pistachio was the best. It was good, but no Paris's Berthillon. The sugar went straight to our heads as we spent way much time with the crazy mirrors in the streets.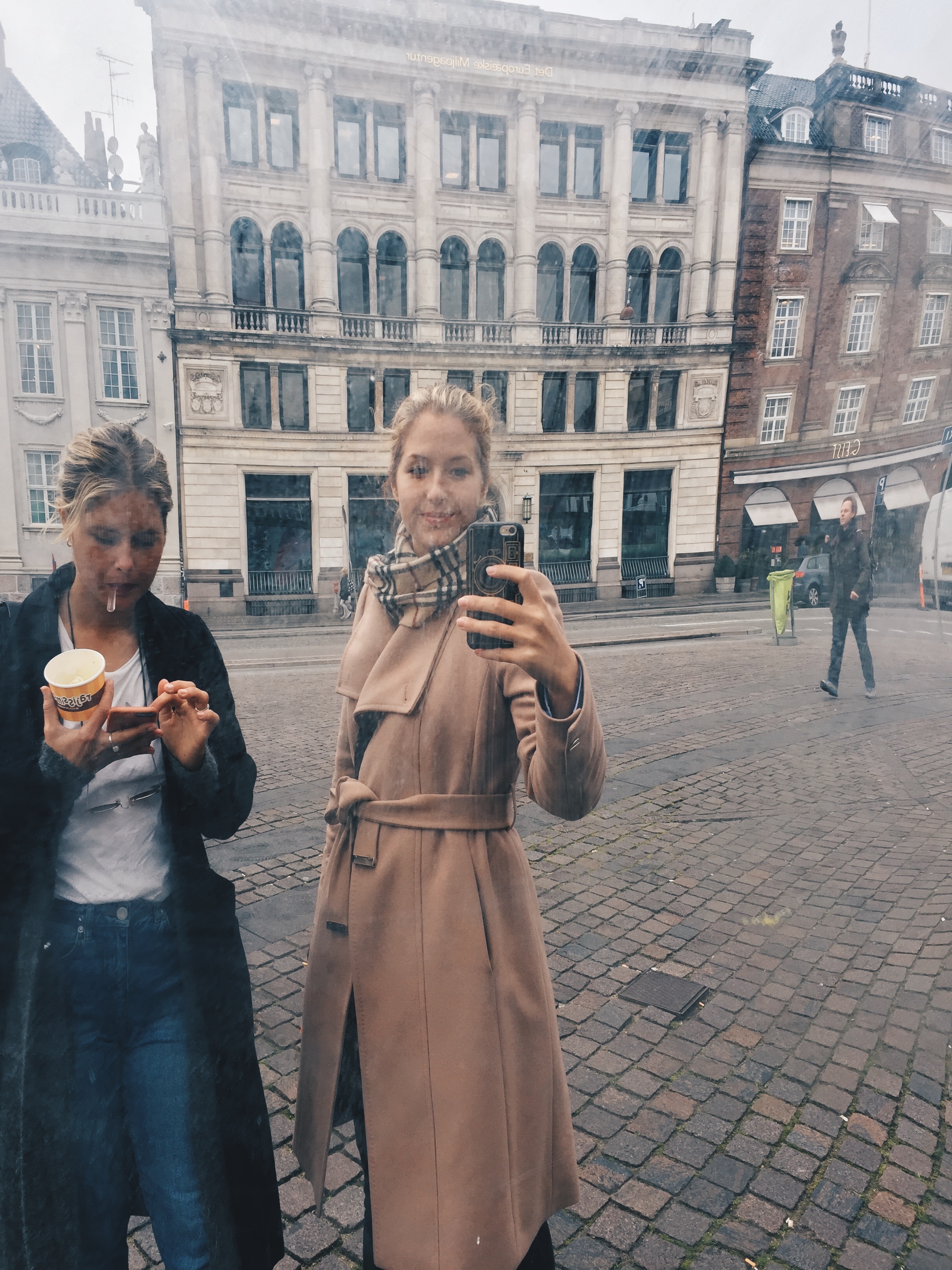 Having completed our goals for the day, our new mission was dinner. Luckily, all we had to do was pick up a few ingreadients for Helen's boyfriend who would be cooking.
Even luckier, Toverhallerne, an indoor/outdoor food market was just around the corner. We grabbed some cauliflower from a nearby farmer and fresh salmon from the fish monger before jumping on a bus for the ride home.
Our dinner was an incredible two-course meal, including lots of caramelized onions, because why not? There was even a parmesan foam involved...oh yes!
Unfortunately the trip came to an end too soon, as these things often do, and it was a day of traveling and delayed planes that awaited me.
I had a fabulous time in Denmark, and I can't wait to go back again, hopefully sooner rather than later.
Marina