Moscow in May Part III
Friday came quickly, and with only two days left in Moscow, we still had a lot left to see. Tyler, having finished his work, was able to spend the rest of our time here being a tourist with me. We were especially looking forward to Friday night, when we had some very special plans.
The first thing we did was visit a flea market that was in town for a few days. All sorts of vintage goods were for sale, including a classic Chanel blazer that hopefully found a nice home.
We didn't end up buying anything, because at this point we're trying to minimize before the big move back to the U.S.
With balmier temperatures, we went for a long walk, popping in and out of parks that we passed along the way.
We decided to visit The State Tretyakov Gallery in the late afternoon, but appearantly so did many other tourists.
It was very busy, but we were still able to get glimpses at incredible art.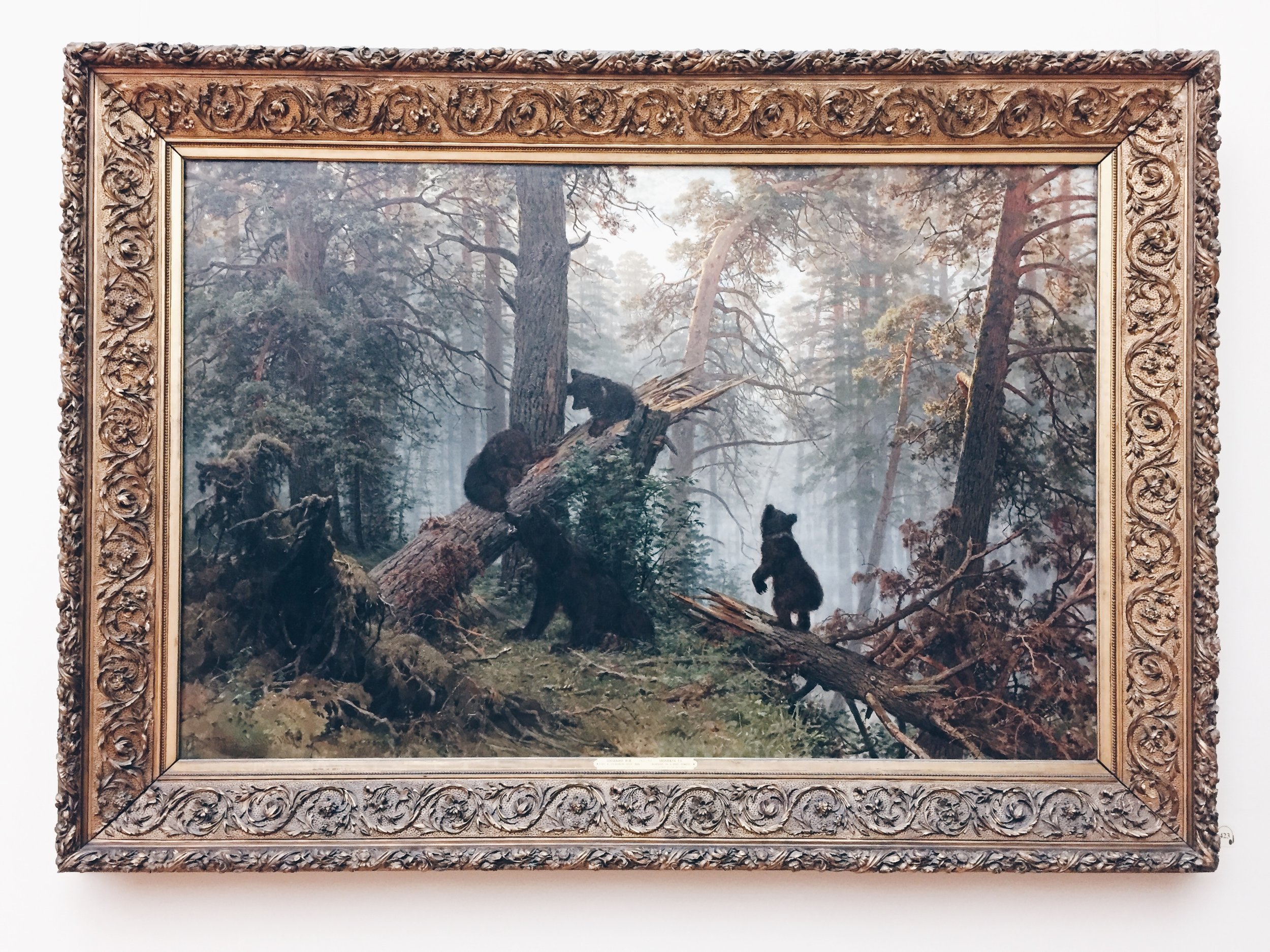 Ivan Shishkin & Konstantin Savitsky
After the gallery we went home to change for the exciting night ahead. It deserves its own, exclusive post, so keep an eye out for it this week.
That same night though, we walked home under a clear, navy sky and slept ever so soundly.
The next morning was grey at first, but warm. We were invited to brunch at our friends' apartment, so after bidding adieu to our apartment, we made our way to them, ate a delicious peasant's breakfast of eggs, sausage, black bread, and syrniki (check out my recipe here) before all venturing out together for the day.
I really wanted to go on a river cruise, so we bought tickets online that morning and hopped on a boat that took us down the Moscow River for an hourlong tour of the city's most famous sites.
I compiled a few videos from Snapchat and Instastories in order to make this short video that captures some of the river cruise. Check it out below!
After our boat ride, we crossed the river by bridge and meandered through the old chocolate factory grounds. Much of it has been converted into trendy cafes, neat galleries, and unique shops.
After a few wrong turns, we got our bearings and came to the park just outside one of the main museums.
Eventually we reached the gates to Gorky Park.
Locals and tourists were spread all over the greens of the massive grounds, enjoying the warm weather and drops of sun.
Hungry, but without cash, we walked a very long way to find an ATM (we really worked for our dinner). We returned back to the park, and were finally able to order some food.
The four of us sat on the steps by the river and ate our scrumptious fare.
This was a great way to spend our last day in Moscow. We said our goodbyes and took the train to the airport, a very convenient and quick way to get there. Unfortunately, our plane was cancelled, but the airline put us up in a hotel right next to the airport and we were back in Syktyvkar the next morning.
On Wednesday I'm off again for St. Petersburg to meet my sister and dad. More posts coming soon!
Marina