White Rabbit
Last Friday evening, after a day walking around the city, we came home, put on a nice, clean set of clothes, and made our way, hand in hand, to a place where we'd made reservations months before, the famous and exquisite, White Rabbit Restaurant & Bar.
Sitting atop a building, encrusted in glass, lights, and flowers, is the 23rd best restaurant in the world, according to The World's 50 Best. We actually bumped into the head chef, Vladimir Mukhin, in the elevator. We recognized him immediately from the Netlflix Original, Chef's Table (Season 3, episode 2) and both Tyler and I were a bit star struck, only managing to say "HEY!" to which he smiled, said "hey" back and "see you later!" Not a bad way to begin the evening.
Our reservation was for 7PM, early by European standards, so we practically had the place to ourselves for the first hour.
Once we were seated, along the windows (there isn't a bad seat in the entire place), we perused the cocktail menu and started there.
For him, Old Fashion (Bourbon, brown sugar, Angostura bitters). Tyler loved his drink and I actually did too, not being a bourban fan.
For me, Spicy Raspberry (Ginger, raspberry, raspberry vodka, limoncello). This was the. best. cocktail. I have ever had. Garnished with a sliver of crystallized ginger, it's the perfect spring drink and dangerously tasty.
We clinked glasses to the fabulous night ahead and the past, nearly 9 months in Russia.
Shortly after a few sips, our server brought us our first nibble.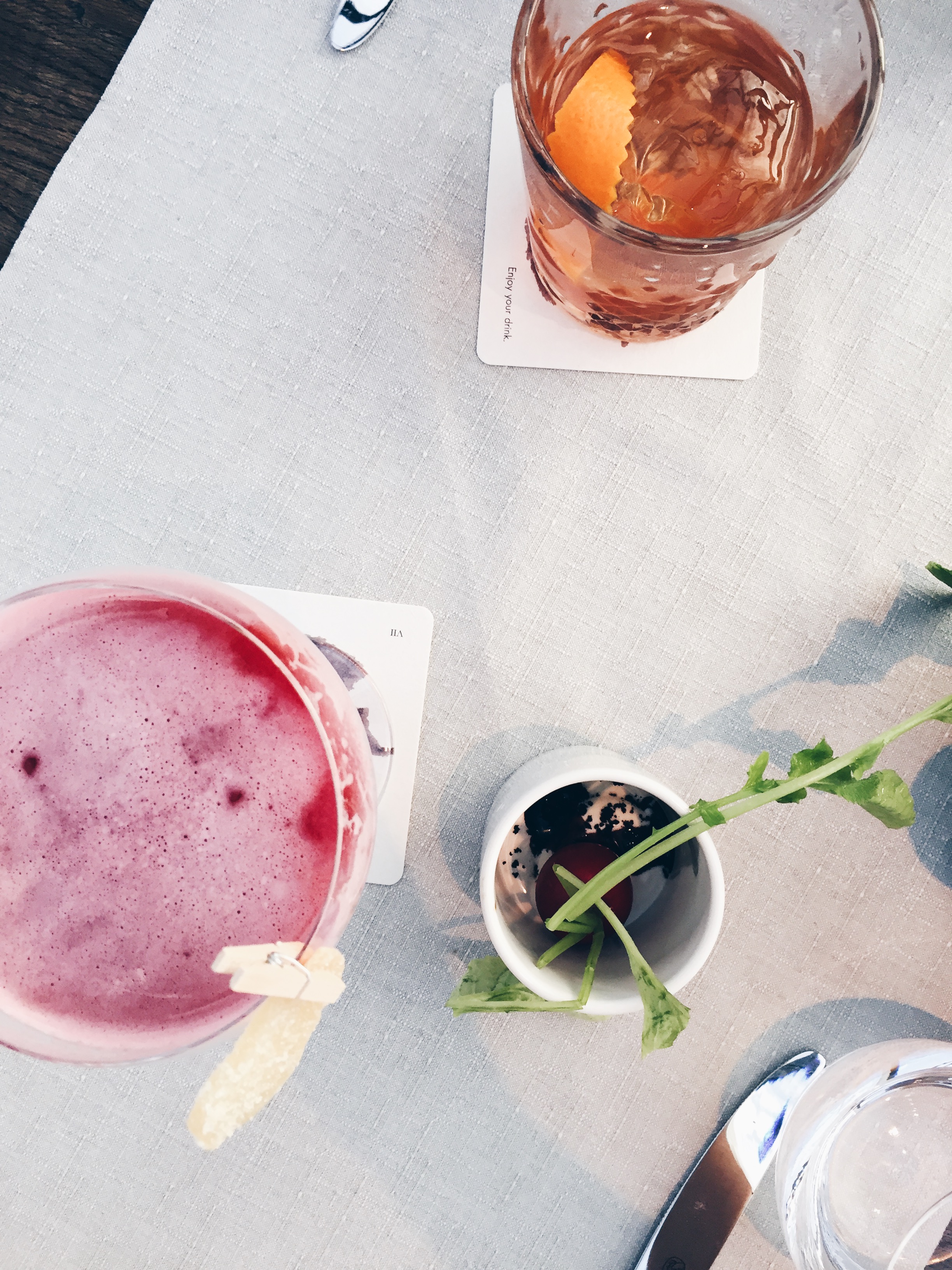 Radish with house-made sour cream and balsamic reduction
I never knew how much I liked radish until I ate it, stem, leaves and all (don't know if I was supposed to, but I couldn't help it).
In between bites, our table provided us with views in every direction.
We took our time with the menu because there were just so many intriguing choices. We began with a slew of appetizers, both hot and cold.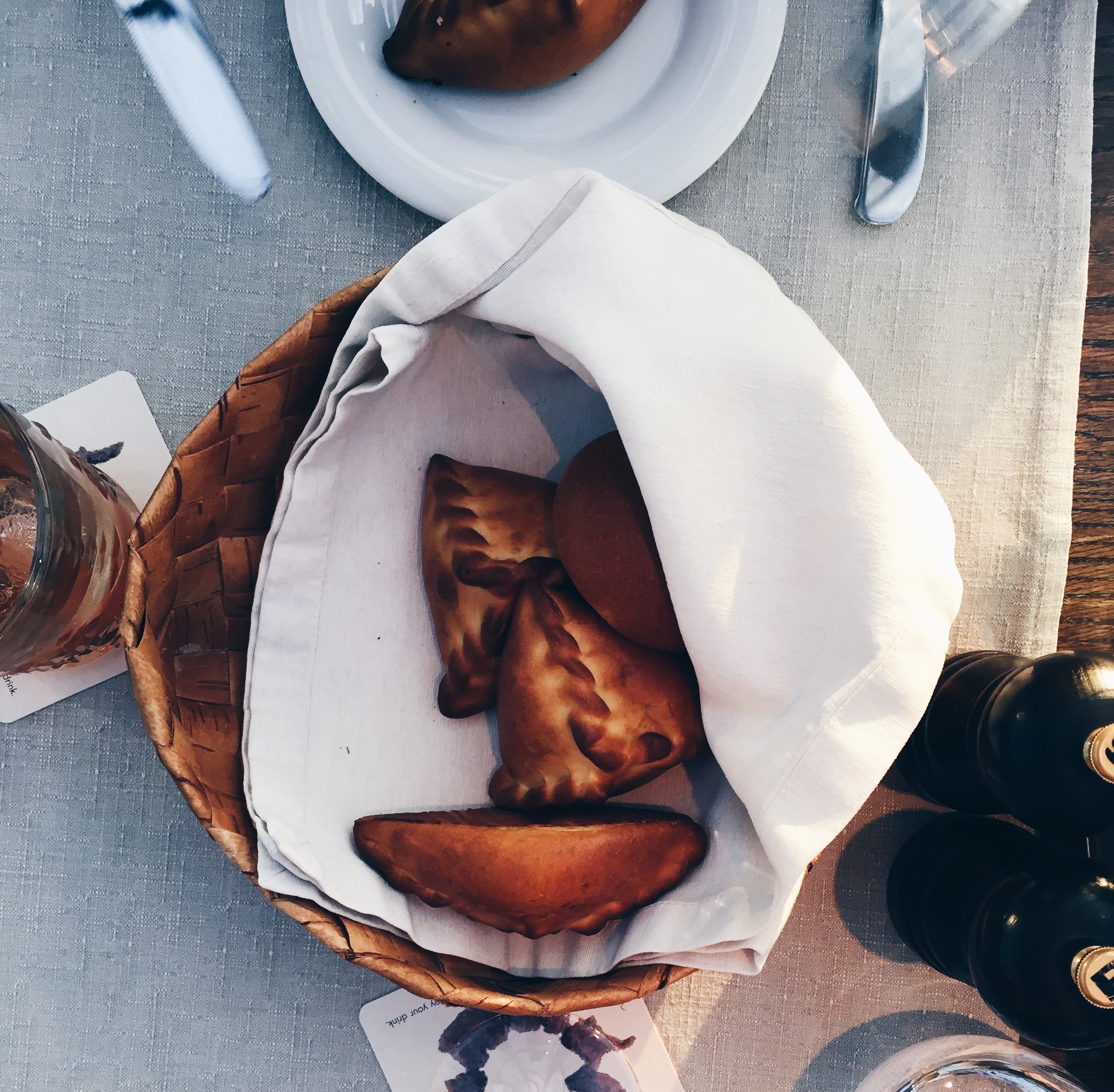 -Veal & beef tongue
-Cabbage & egg
-Catfish rasstegai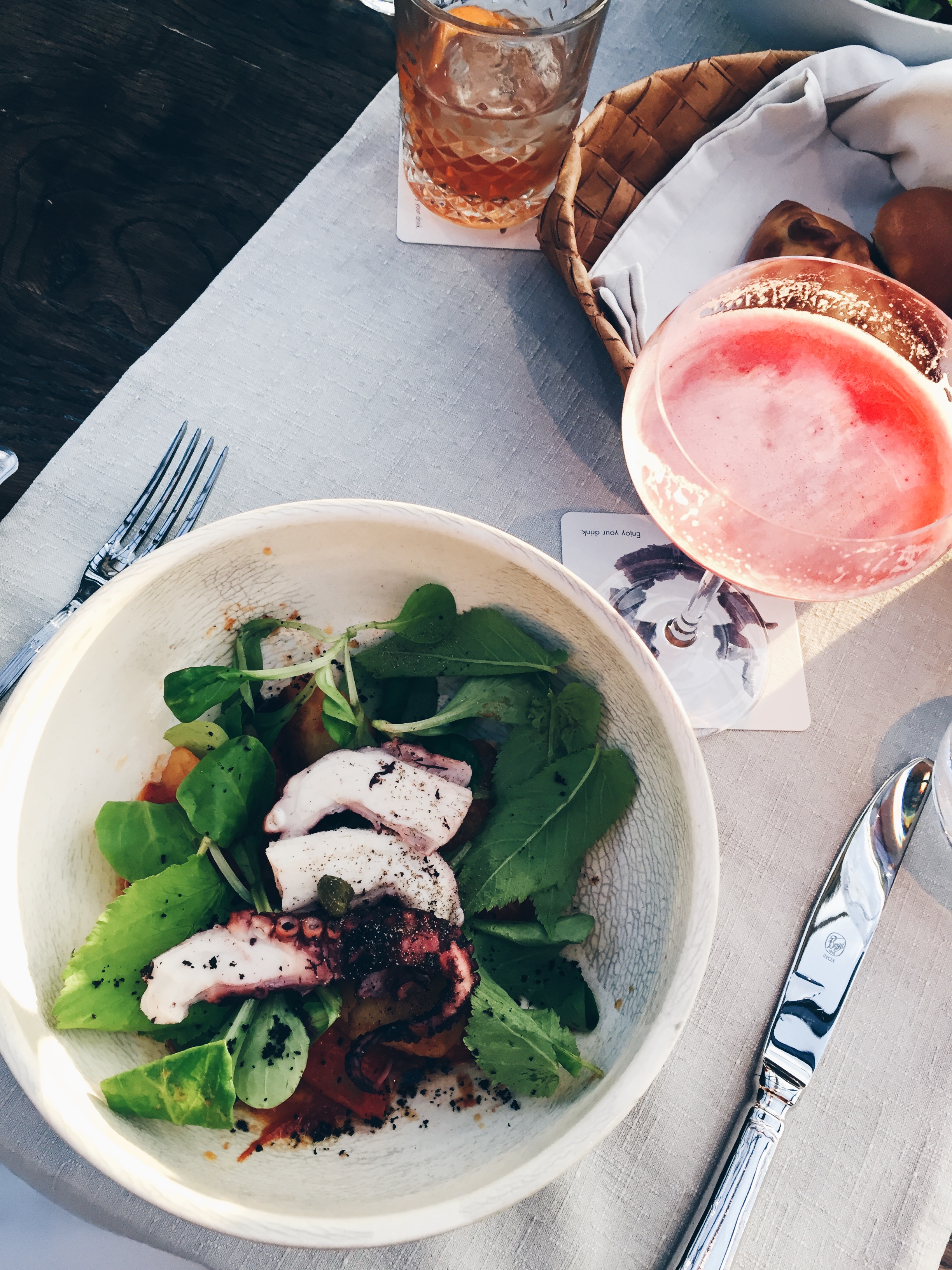 Warm octopus, baked potatoes, green olives and sweet tomatoes
Veal tongue pastrami, baby spinach, roasted oyster mushrooms and avocado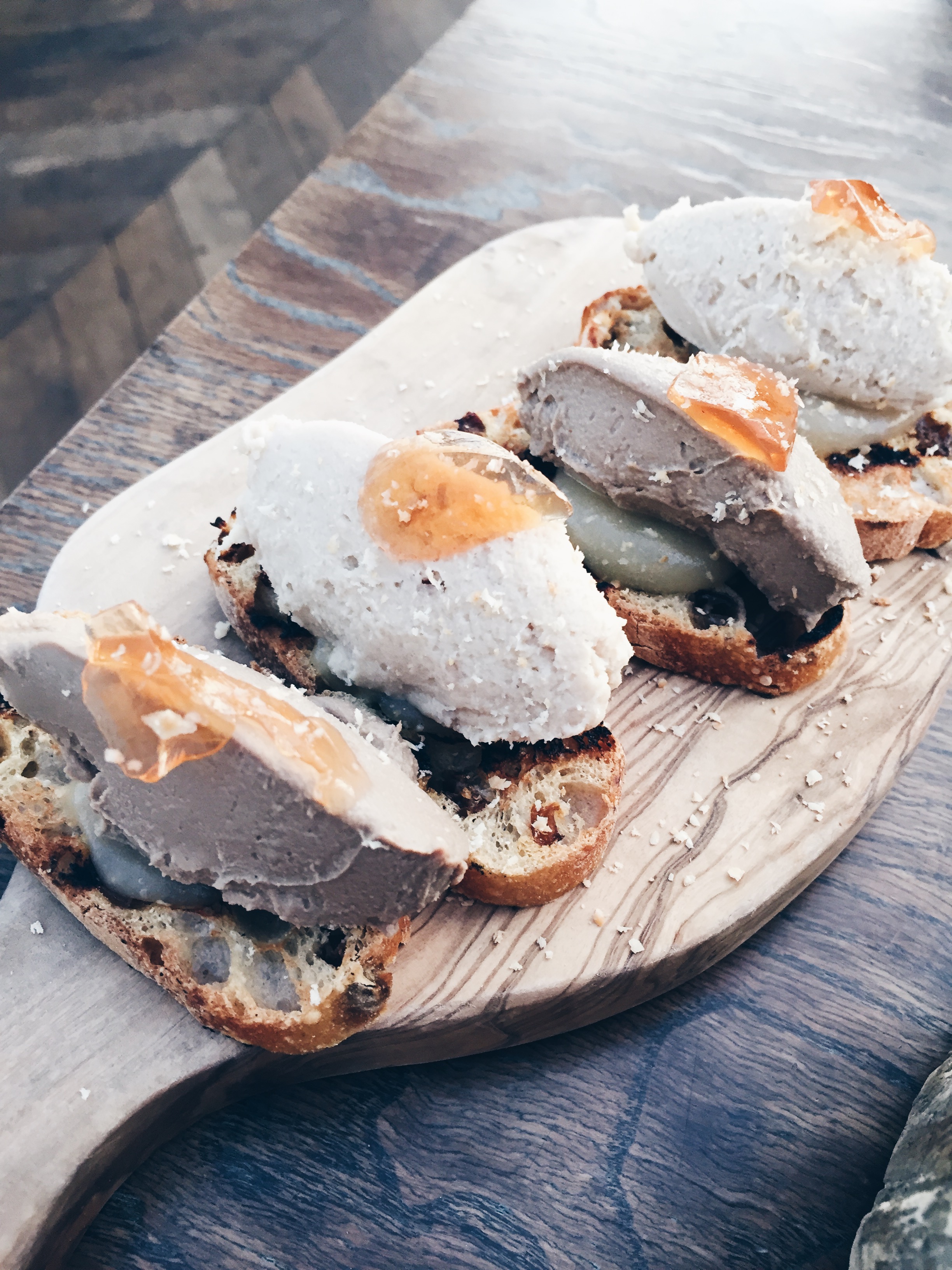 Rabbit pate, apple and madeira jelly
The mini sandwiches with black caviar were our favorite thing of the evening, and that's truly saying something, because EVERYTHING was incredible! Oh and the white specks...that's butter. We spent a good amount of time trying to figure out how this was made and I think we figured it out. Now I just need to try this at home.
Mini sandwiches with black caviar
As we ate, we watched the continuously changing sky from our perch on the 16th floor.
To prepare us for our upcoming dish, we were brought a really interesting treat.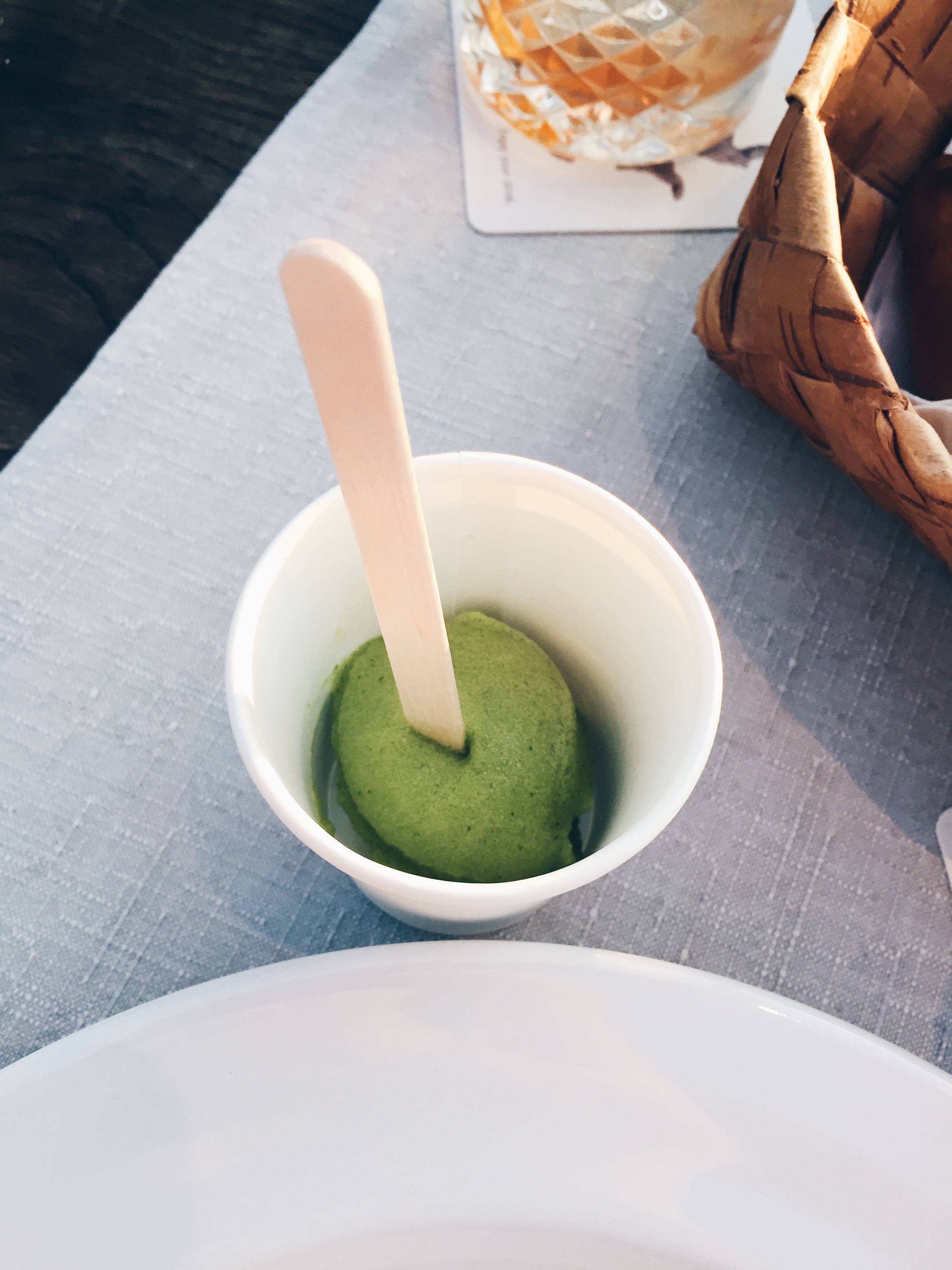 Palette Cleansing Nettle sorbet
Then our main course arrived, in all its absolutely glorious delicousness.
"Yes, you may shave fresh truffle all over my plate."
My dish was so rich and decadent and creamy and unlike anything I've ever tasted before.
Rabbit tongues, potatoes, black truffle and mustard sauce
Tyler's crab cake was agreeably the best either of us had ever tasted. It was sweet and fresh and perfect with young corn.
Crab cake with young corn and morne sauce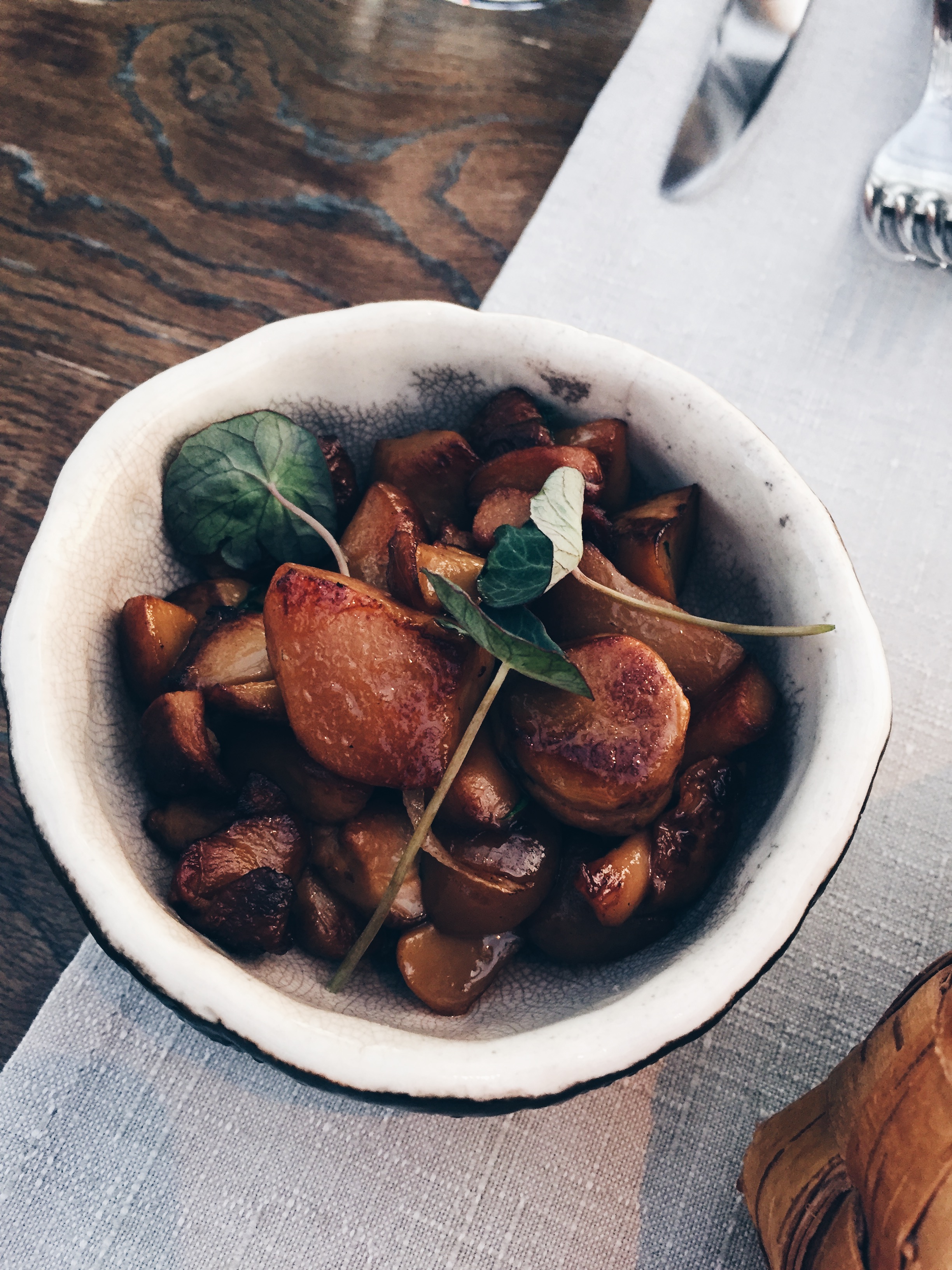 We ate slowly and savored every bite. There was nothing wrong with any morsel of the food. I can still taste the creamy potatoes and black truffle if I close my eyes and begin dreaming.
We didn't hesitate to look at the dessert menu. How could you pass up the opportunity to try even more of the phenomonal menu.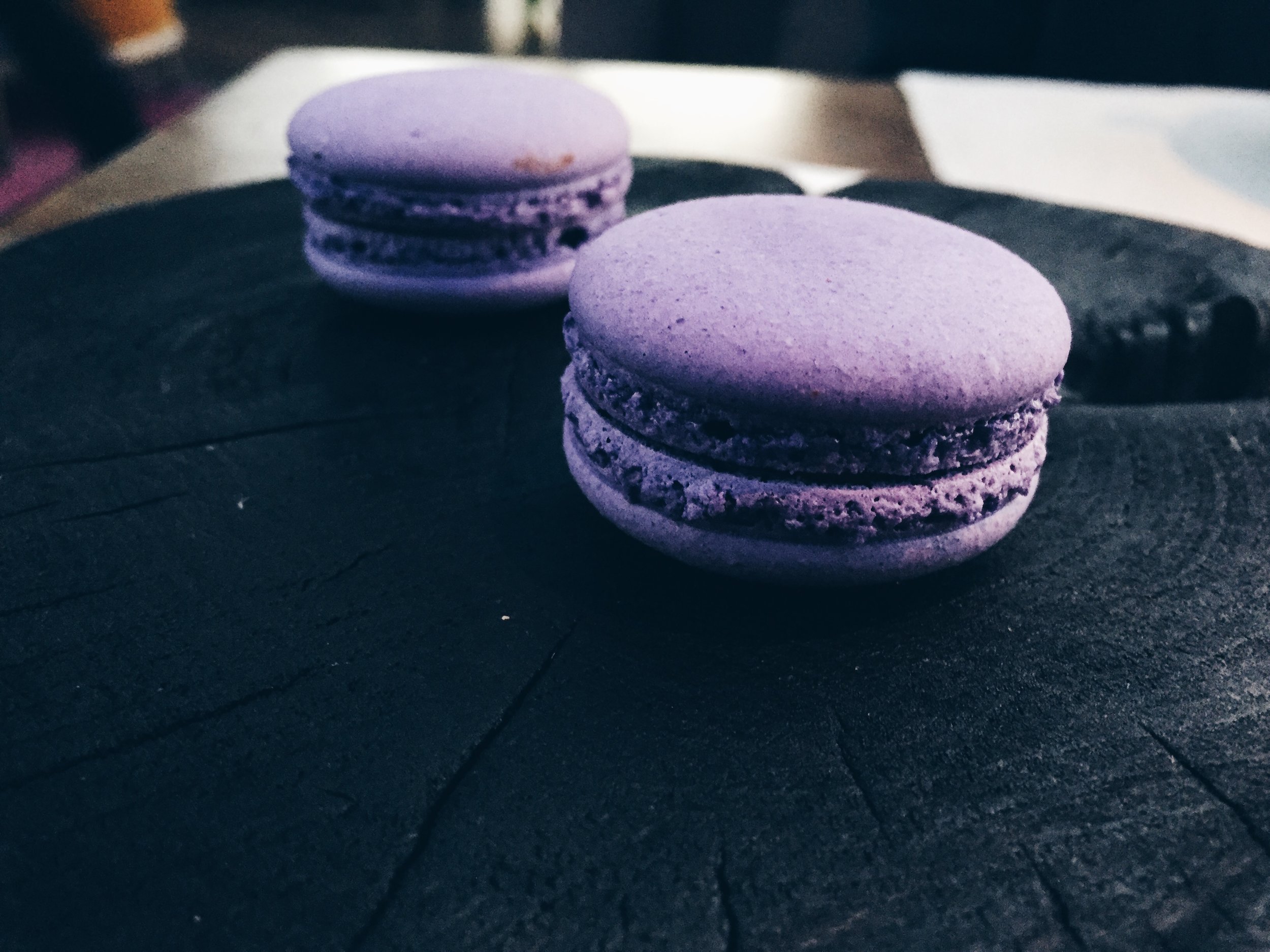 I like to think that I'm a bit of a macaron snob. I made the safe bet that White Rabbit wouldn't fail me and sure enough they didn't. It was everything a macaron should be. Filled with chocolate and black currant jam, it will keep a special place in my heart for years to come.
The candies that our waitress brought over were so delicate and we were instructed by her to handle them very carefully and to pop them into our mouths without biting first. As soon as we did, the candy broke open and a deluge of sweet, strawberry liquid washed over our tastebuds.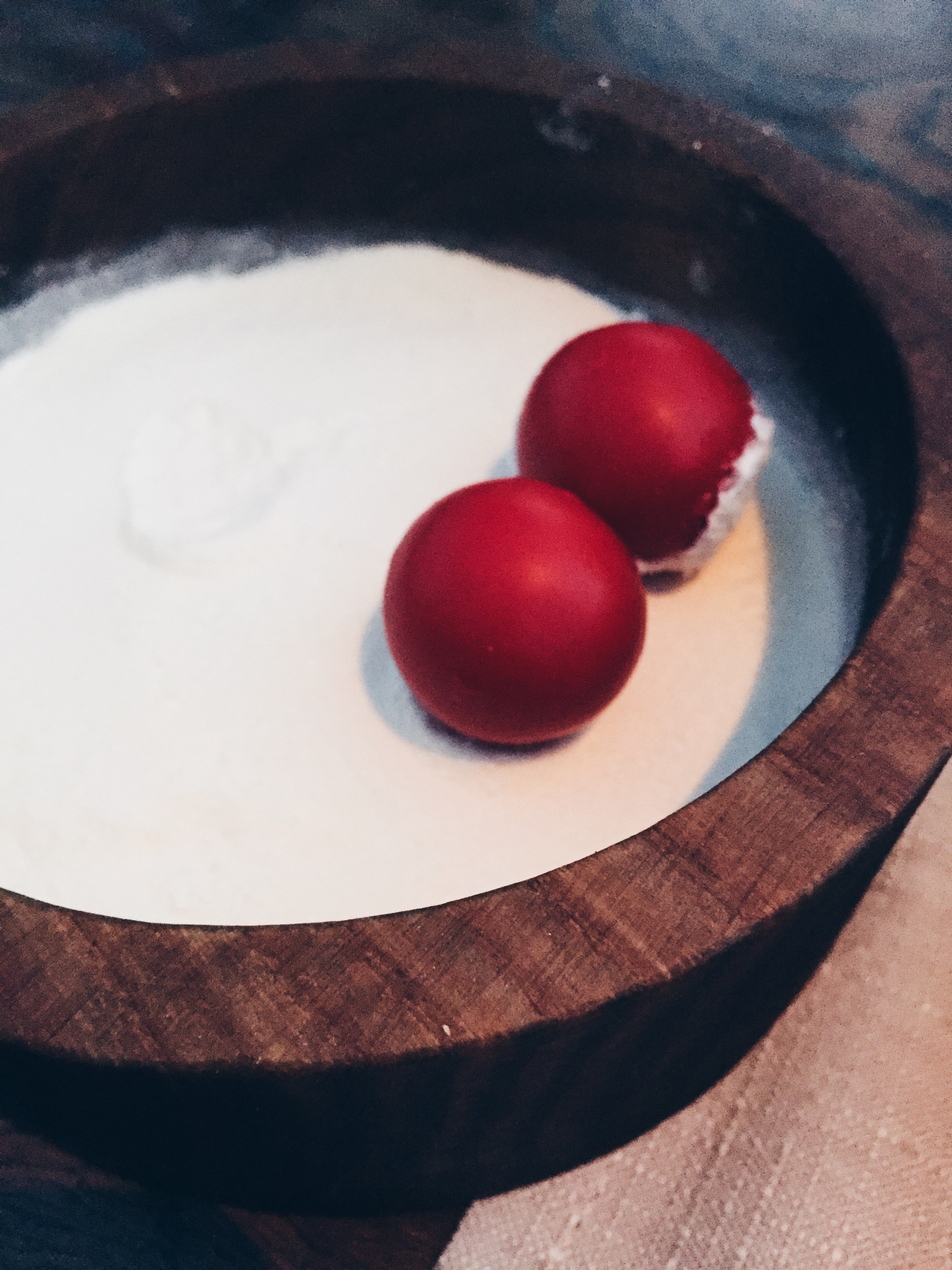 Strawberry candy in sugar
Dessert
Compliments of the Chef
The main dessert was unexpected and stunning against the midnight black bowl. The flavors were refreshing and an ideal way to end an unforgettable meal.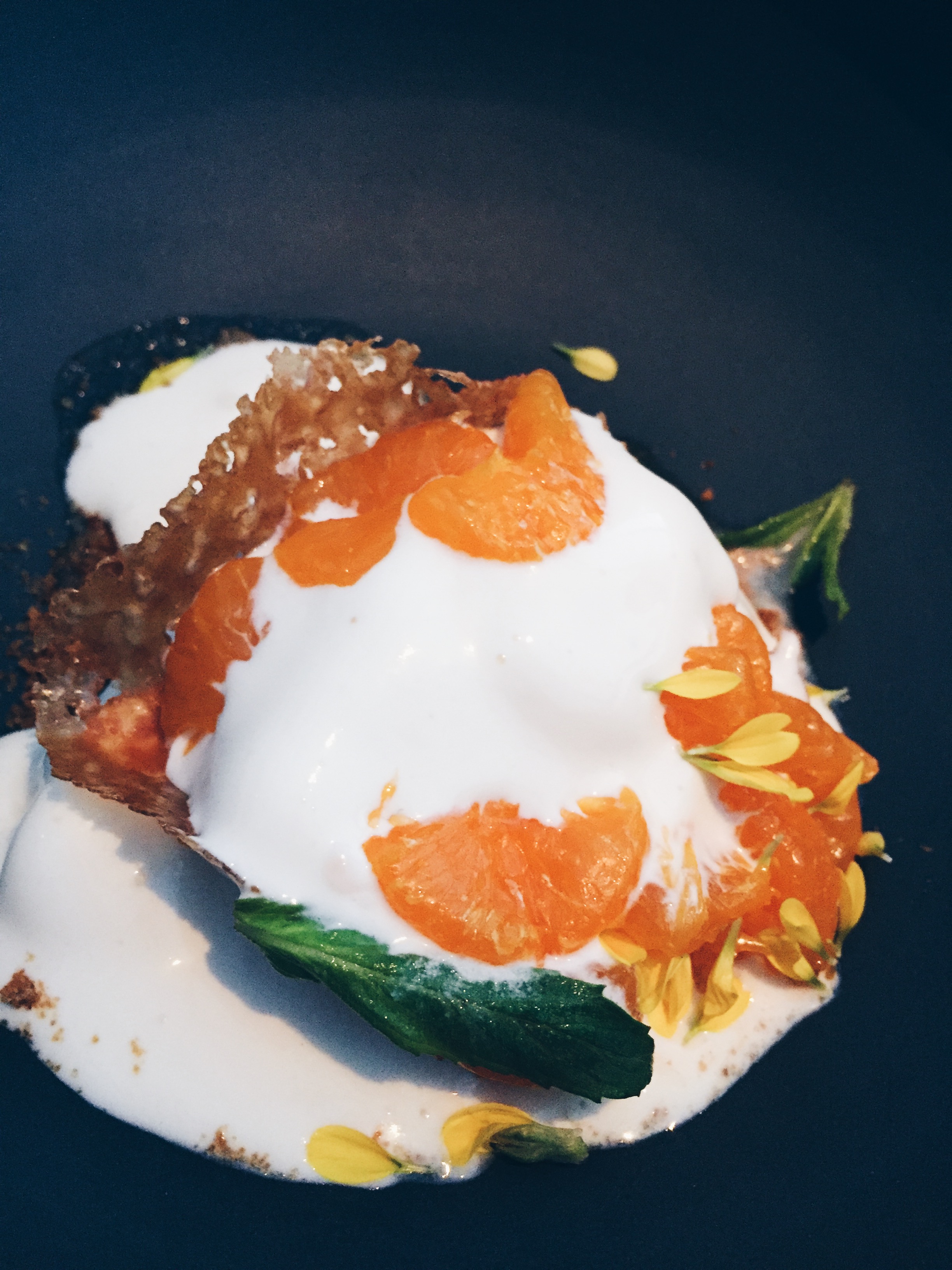 Honey cake with mandarin and ice-cream of sour cream
We ended as we'd begun, with drinks. I ordered the Spicy Raspberry again because it really was that good, and Tyler tried something new.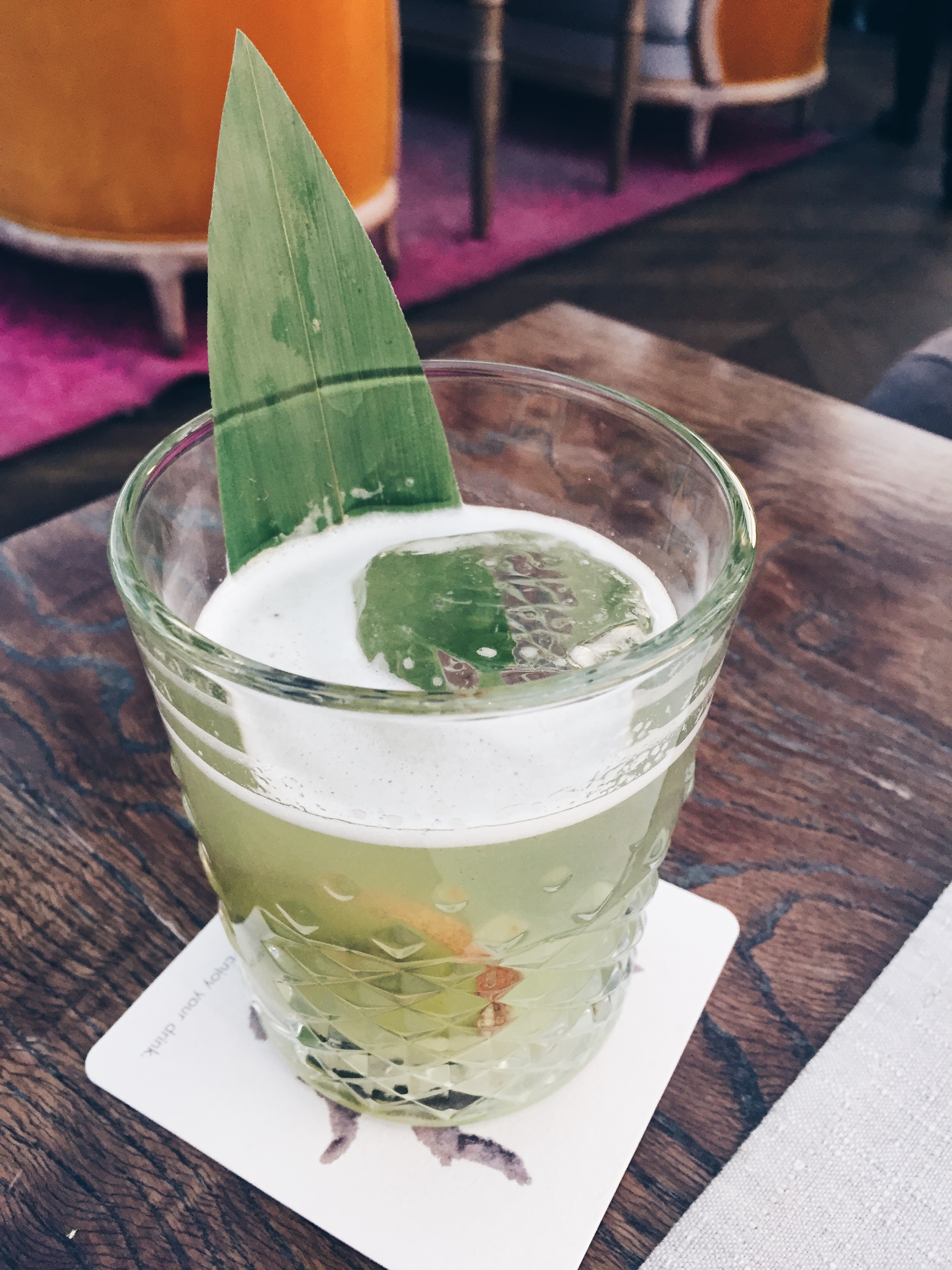 Evergreen
Rum infused with baked pineapple, kiwi and tarragon cordial
As we left, candles were being lit all over the glass encased restaurant and tables were filled with chatting, smiling, and hungry guests. We could have spent the entire night in this atmosphere, but unfortunately as the saying goes, "all good things must come to an end," even if just for now, because we'll be back some day.
Marina