St. Petersburg in Spring Part 2
Friday morning greeted us again with brilliant sunshine and a knock at the door. Tyler had taken a very early flight to St. Petersburg, so he was at our hotel by 8:30. We went right to breakfast before making our way to the river.
Since we first arrived in Russia, everyone told me to visit the Summer Palace (Peterhof) in spring, and so we took them up on their advice and did just that.
We took a hydrofoil boat, which practically hovers over the water because of how fast it goes, and within 30-40 minutes, you've arrived.
As you walk up the long path, you're met by forks in the road that tempt you down long and mysterious dirt thoroughfares. We resisted their charm at first in favor of the unbelievable site that awaited us straight ahead.
The fountains are mesmerizing and keeps tourists hovering and marveling at the design and craftmanship.
As we continued on, not a dull moment or view greeted us.
I fell in love with this pink "house" on the property. I took lots of pictures for my future house (one can dream, right?).
Eventually we let the immaculate, forested grounds consume us.
In all we spent about four hours at the Summer Palace, part of which was spent sipping on hot tea at nibbling on cakes at a cafe on the premises.
Eventually, we waved goodbye to the palace from the boat, all of us ready for a lazy and relaxing dinner at Oh! Mumbai.
Oh! Mumbai is an excellent Indian restaurant. We started with cocktails.This mango, ginger, and vodka drink was sweet and refreshing (and beautiful).
We ordered eggplant rolls and samosas to start.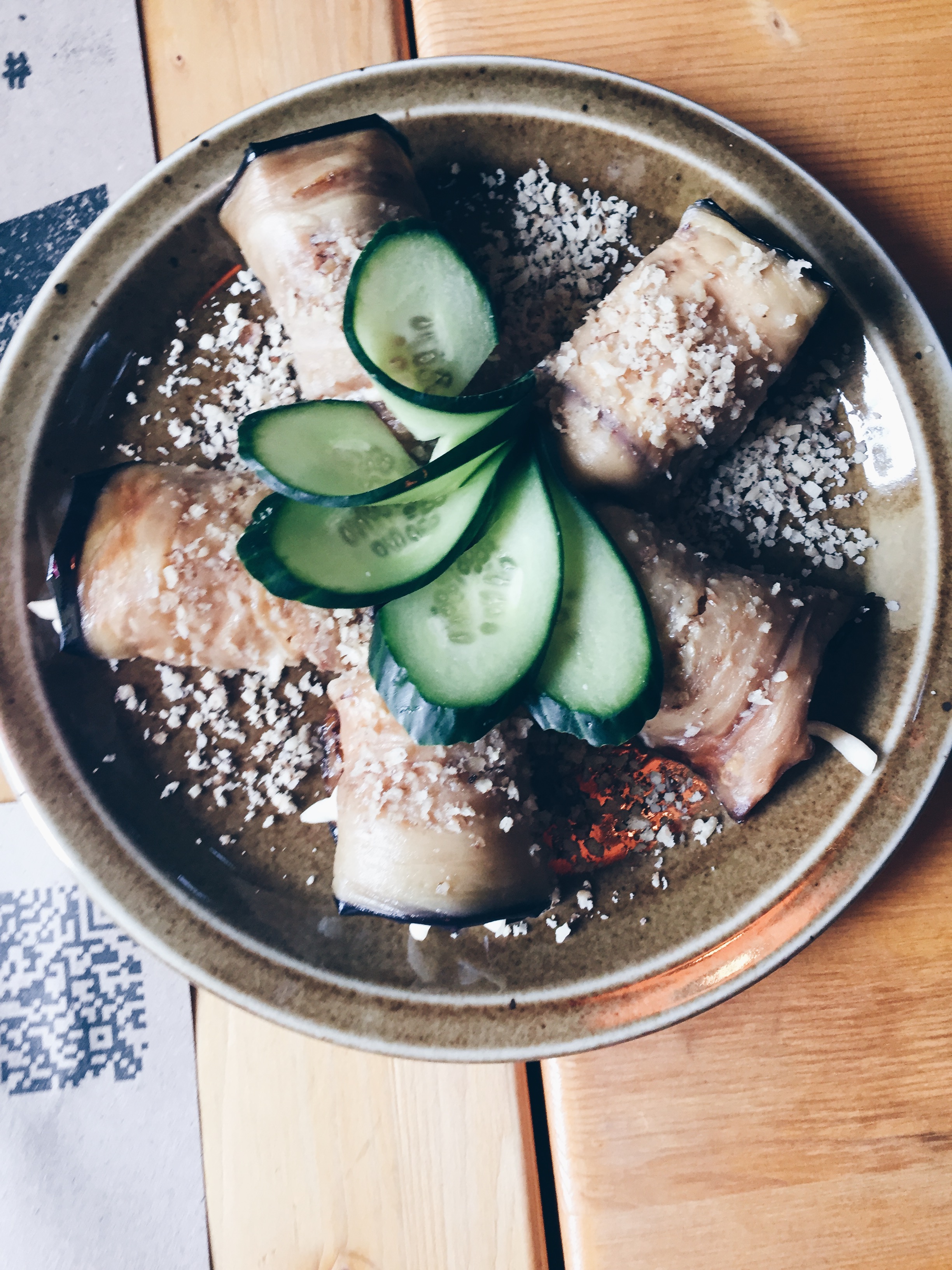 Eggplant rolls with walnuts.
Followed by rice, both regular and lemon, garlic naan, chicken tikka masala, yoghurt with veggies and spices, and a vegeterian curry.
In our fury of hunger, I only snapped a couple of pictures. This truly is some of the best Indian food I've ever had. I recommend it to anyone who finds him or herself in the city.
Once we were good and full, we took a scenic walk home, which always manages to lead us back to the canals and across the river.
The next morning was spent window shopping and strolling once more.
We all wanted to take a canal tour, so we jumped into a boat and for the next hour and a half and meandered through the city's winding water paths, ducking our heads under low bridges, all while learning a few new things about St. Petersburg.
The temperature had really taken a dip from the morning, so we bundled up with blankets and stayed close.
After we disembarked our vessel, all of us were extremely cold and hungry, so we spent an hour in a cafe just warming up with some tea, but alas our stomachs called and we had dinner at a fabulous "mom and pop" Georgian restaurant named Gamarjoba Cafe, recommended to Tyler by a friend. Sadly because we were so wrapped up in the fantastic meals, I didn't take any pictures, but you'll have to just trust me on this one.
The next morning, we were up early and in a car to the airport by 7:30. We flew our separate ways, Tyler and I heading back north for just one more week left in Russia.
Marina